Architect Norman looks for perfection at Sugarloaf
By Patrick Jones
GolfWeb Contributing Writer

Greg Norman stood in the 18th fairway carefully measuring what could be one of the most important golf shots of his career. He powerfully swung a long iron. The ball flew long, high and accurate, but the result was not what he had intended. He lined up another ball and hit it. And another. And another.
As the architect for the development, Norman made over 20 trips to Sugarloaf during construction.
Photo courtesy of Sugarloaf
Dressed in a black T-shirt, faded jeans and work boots, this was not The Shark, professional golfer, trying to capture another PGA Tour win. Instead, it was Greg Norman, course designer, searching for perfection in his newest project in golf architecture--the Tournament Players Club at Sugarloaf, located just outside of Atlanta near the city of Duluth.
The TPC at Sugarloaf, Norman's first signature course design in the U.S., is the new home of the $1.5 million BellSouth Classic set for May 8-11. Norman, with the benefit of knowing the lay of the land, will be in the tournament field.
Norman did more than lend the credibility of his name to the project. He made over 20 visits to the course during its construction. Part of his on-site routine was to beat balls off of the bulldozed red Georgia clay to make sure the holes--the finishing par-5, 576-yard 18th in particular--were set up exactly as he wanted them. Norman knows that this course, like his game, will come under close scrutiny from both the international golf media and his fellow professionals. Thus, his close involvement and attention to every detail from the start.
No. 1, a 434-yard par-4, offers a picturesque beginning of Sugarloaf.
Photo courtesy of Ken E. May
"I like to look a mile ahead," said Norman. "I wanted to get the entire picture of what nature has given me with this 1430 acres. As a professional golfer, my name may be famous, but it will eventually become another name on a trophy. This golf course will be around much longer. I just hope I get some honest opinions on the efforts that have gone into its design."
Jeff Krohn, TPC at Sugarloaf's head golf professional, attested to Norman's personal attention to the course. "He was here at least a couple of dozen times and was very hands on," said Krohn. "He hit shots from a lot of different angles from a lot of different distances to make sure that what he envisioned with this course is exactly what he got."
The 7,259-yard course lies on the site of the former Sugarloaf Farms, a hilly and scenic piece of property where Tennessee Walking Horses were once bred. (The existing horse barn has been renovated into the club's swim and tennis clubhouse facility.) The TPC at Sugarloaf golf course features GN-1 Bermuda fairways (Norman's own brand of sod), zoysia rough and Crenshaw bentgrass greens.
Although there is a creek just before the green, No. 3, a 389-yard par-4, offers a large landing area to shoot at.
Photo courtesy of Sugarloaf
The longest hole on the golf course is the 10th, a downhill, 608-yard par-5. The shortest is No. 2 at 144 yards. It is a par-3 protected by a deep bunker in the front right and severe slopes along the rear of the green.
It is the 18th, though, that Norman called "a spectacular hole." Golfers are greeted with a view in the distance of Stone Mountain, the world's largest granite outcropping, from the tee box. A well placed drive over the crest of the hill sets up a downhill long-iron shot over water to set up an eagle opportunity and a potentially exciting tournament finish.
Sugarloaf's own unique challenge is that the BellSouth Classic is the first event to be played on the course. Only a few Sugarloaf members, media types and curious PGA pros--including Billy Andrade, John Huston and defending BellSouth champion Paul Stankowski--will have set foot on the virgin course before the tournament officially gets underway.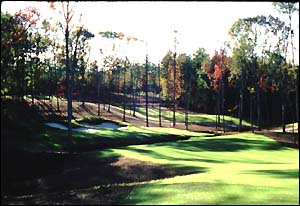 Players will need to use their driver off the tee on No. 5, a 418-yard par-4.
Photo courtesy of Ken E. May
"We're not sure if opening up a new course with a PGA tournament has been done before," said Krohn, who helped oversee numerous Canon Greater Hartford Opens while a professional at TPC of River Highlands. "It's keeping us very busy. It's a double whammy to be doing both at the same time, but it's very exciting. We've heard nothing but positive things about the course from the pros who have stopped by."
Since 1967 the Atlanta PGA Tour stop at the Atlanta Country Club had been one of the players' favorite sites. The tournament had outgrown the ACC, however, and the PGA Tour had been looking for an alternative course in the Atlanta area for over a decade.
"We had a great relationship with the Atlanta Country Club," said BellSouth Classic tournament director Dave Kaplan. "But the tournament has grown incredibly over the last 10 years and parking had become a real problem. We had fans parking in two schools, a church, a pasture and land owned by the Department of the Interior. We've known since 1986 that if a TPC course was built in Atlanta that we would be moving."
No. 9, a 465-yard par-4, is the toughest driving hole at Sugarloaf.
Photo courtesy of Sugarloaf
Kaplan made it clear that several "financial benefits" also played a role in the decision to move the BellSouth Classic to a TPC-affiliated course. Among them were that the tournament does not have to pay rent for the course and that more accommodations would be made available for revenue-producing hospitality tents and corporate boxes.
It is well known that Norman has been torturously denied a winning legacy at Augusta National, Georgia's most renowned golf course. (And with Tiger Woods officially preordained to extend his win streak at the Masters to at least 20 in a row, Norman may find donning a green jacket even more elusive.)
But even if The Shark never earns a Sunday evening appearance in Butler Cabin, with the opening of his own TPC at Sugarloaf, he can now rest assured that at least his architectural skills will leave a championship impression on Georgia's golfing landscape.